The state of Georgia has specific laws regarding security deposits, and it's easy to violate these laws if you're not aware of them. Landlords can find themselves in court or battling tenant disputes if they don't pay attention to the timelines and documentation that are required when you're handling and returning your tenant's deposit.

Here are a few tips to ensure you're in compliance with Georgia security deposit law.

Collecting a Security Deposit
There isn't a limit on how much you can collect from your tenant for a security deposit. Typically, you'll want the equivalent of one month's rent. The deposit must be held in an escrow account; you cannot allow it to co-mingle with your own funds, and you cannot use it during the course of the tenancy. The deposit is still your tenant's money; you're simply holding it to protect yourself against damage or unpaid rent. You cannot spend the money until the end of the lease term.

Evaluating Property Damage vs. Wear and Tear
Once a tenant has moved out and you've gone inside the home to conduct an inspection, you need to know what you are permitted to deduct from the security deposit. You should have done a detailed move-in inspection before the tenant took possession of the home. This is important so you can disclose and document any pre-existing damage or issues that the tenant would not be responsible for at the end of the tenancy. It also serves to document the condition of your home. If you take pictures and videos, you'll be able to clearly see where any damage was done.

Wear and tear cannot be deducted from your tenant's deposit. Every Stockbridge property will have wear and tear, regardless of who is living in the home. Those scuff marks on the wall from where a couch was pushed up against it are wear and tear issues that you'll have to pay to repair. It's the same with nail holes in the walls from where pictures were hung or some worn carpet in areas of high traffic. Damage is different and due to the abuse or neglect of the property. Large holes in walls, broken windows, and scratched floors are all examples of damage, and you can use the deposit to pay for those issues.

Timeline of Deposit Return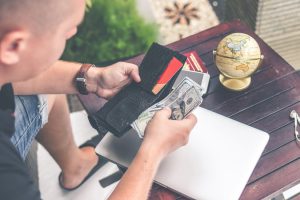 When your tenants move out, make sure you get a forwarding address so you can send back the security deposit. You're legally required to return the deposit within one month of the tenants moving out. If you withhold any money from that deposit, you'll need to let your tenants know in advance. Send a letter with a list of the repairs that will be made and how much those will cost. When you return the remaining security deposit funds, include receipts or invoices so the tenants can see where their money went.
The security deposit is usually the most contentious part of the landlord/tenant relationship. You can avoid disputes with good move-in and move-out inspections and a lot of documentation. Make sure you have a good relationship with your tenants so it's easy to talk about your expectations before they move out.

If you have any questions about managing security deposits in Stockbridge, please contact us at Fickling & Company Property Management. We'd be happy to help.