No one expects property damage in their Stockbridge rental property, but smart owners plan for the worst-cases scenario. You want to protect your investment and keep it safe from bad tenants, bad weather, and other catastrophes. Most importantly, you want to protect it against the damage that can be caused by deferred maintenance.
Keep your rental property occupied with a trustworthy tenant and make sure you inspect it when you can. There are a few things we recommend you do to protect yourself, your residents, and your property.
Tenant Screening in Stockbridge
Good tenant screening is the starting point for avoiding property damage. You'll want to put together some written criteria for well-qualified residents. It's pretty standard to check credit and criminal backgrounds. Dig a little deeper when you want to ensure your tenant won't damage the property.
We recommend you pay attention to rental history. Talk to current and former landlords. Ask important questions such as:
Was any damage left behind?
Did the tenant receive their full security deposit refund?
Did the tenants report maintenance needs right away?
Would you rent to that tenant again?
Collect a Reasonable Security Deposit 
Collecting a security deposit is also an important part of protecting your property. It's tempting to offer prospective tenants a low security deposit. You might see many apartment communities advertising a $99 deposit. That's not smart. Mitigate the risk of property damage by charging a reasonable security deposit.
Ask for a security deposit that's high enough to cover any potential damage that's left behind after a tenant moves out.
Conduct Routine Property Inspections
Inspections are an important part of protecting the condition of your Stockbridge investment home.
This starts with a thorough move-in inspection that effectively documents the condition of your home. The photos and notes you take during this inspection will establish that the property is not damaged in any way when the tenant moves in.
After your lease period ends and your tenants move out, conduct another inspection and compare the condition report to the one you completed before the tenancy started. This will identify any damage that was left behind by the tenant, and you can deduct from the deposit accordingly.
Responsive and Preventative Maintenance 
Protect your property from damage by taking care of maintenance quickly and completely.
A leak that's ignored for weeks or months is going to turn into property damage. The long-term water damage can result in rot and mold as well. Deferred and unreported maintenance can cause a lot of damage to your property and your relationship with your tenants, so take care of things promptly and completely.
Preventative maintenance can also protect you against property damage. Schedule annual inspections for your air conditioner, water heater, and roof. Conduct regular pest control and make sure you have hurricane shutters in place before storm season arrives.
Stockbridge Rental Property Pet Policies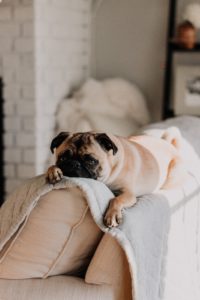 Property owners are often uncertain about whether or not to accept pets into their properties. While offering a pet-friendly property can help you avoid vacancy and get it rented faster, it can also open you up to potential damage.
Pet policies can help you protect your home against that damage. We recommend you remain selective when it comes to the pets you'll allow. Always collect a pet fee and a monthly pet rent. These things will help you restore your property after pets move out.
We'd love to tell you more about how we can protect and preserve the condition of your asset. Contact us at Fickling & Company Property Management in Stockbridge.