The type of tenant you place in your Stockbridge rental property will have a huge impact on the type of rental experience you have. A good tenant will provide regular cash flow and increased ROI. A bad tenant will cost you a lot of time and money and force you to deal with headaches and stress.

When you're looking for the best tenant, you need to have a thorough screening process in place. Today, we're sharing some of the things we do when we're placing tenants in the properties we manage.

Provide Consistent Rental Criteria
Save yourself time and provide a written set of rental criteria to any prospective tenants who are interested in renting your home. When you can demonstrate that you have high standards when it comes to credit, income, and rental history, prospective tenants will know right away if they have a good chance of being approved. Every adult who is 18 years of age or older and planning to live in the property should be required to fill out an application. Only accept applications that are complete and signed.

Checking Criminal and Credit Backgrounds
Most screening processes start with a credit check and a look at criminal backgrounds. Make sure you're doing a nationwide search when you're checking a criminal history. Do a nationwide eviction search as well. Then, you can look at a tenant's credit report. Perfect credit is hard to find. But, you want to get some idea of the way your potential tenant handles financial responsibilities. If you see any outstanding debts to former landlords, property managers, or apartment buildings, you might want to reconsider approving the tenant.

Verify Employment and Income
You want to make sure your tenants earn enough income to cover the cost of rent every month. Contact employers to verify the tenants work where they say they work. Ask for income verification, either from the employer or with the submission of pay stubs, tax forms, or bank statements. Most landlords and property managers look for income that's at least three times the monthly rent. If more than one adult tenant is moving in, you can use everyone's income to meet that requirement.

Talk to Current and Former Landlords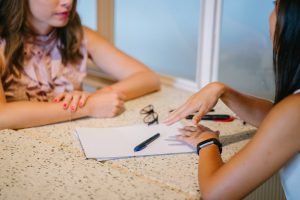 Finally, you'll want to verify the tenant's past rental history. Find out if they have a good track record with rental properties. Talk to current and former landlords about their experiences. Ask if rent was paid on time. Ask if there was any property damage noticed after the tenant moved out. Find out if the tenants followed the terms of the lease, and if they had any pets or caused any problems. Always ask if the landlord would be willing to rent to that tenant again.
Once you have all the data you need from your screening process, you can make a decision about whether the applicant meets your requirements. Remember to follow all fair housing laws, and screen each application consistently. If you have any questions about tenant screening or you need help finding a good tenant, please contact us at Fickling & Company. We'd be happy to help.