Before you can list your rental property, move in a tenant, and start collecting rent, you need to ensure your property is ready for the rental market. If it isn't move-in ready, you're going to lose a lot of great potential tenants.

Take the time to cross the following things off your checklist before you begin marketing your rental property.

Remove all Personal Belongings
Clear out all personal belongings that may be in the property. If you have lived in this home previously or there were other tenants in it, make sure everything is taken out. New tenants will want a completely blank slate to work with. You aren't doing them a favor by leaving a sofa or a lawnmower. Remove all personal objects, debris, and trash.

Clean the Home Thoroughly
Next, you'll need to have the property professionally cleaned. Everything should look shiny and new, so have the hardware polished and the sinks scrubbed. The ceiling fans should be dusted and appliances should be pulled away from the walls so crumbs, papers, and other dirt can be cleaned out. If there are carpets in the property, either replace them before you list the home or have those carpets professionally cleaned. You want to offer prospective tenants a perfectly clean house. Good tenants will not be willing to live in someone else's dirt.

Make Sure Everything Works
You'll have a hard time renting out a home with lights that don't turn on, appliances that don't work, and toilets that don't flush. Go through the property and make sure everything works. Make a list of anything that needs to be fixed or replaced. Change light bulbs and air filters. Check the locks on windows and doors, and make sure the screens are in good shape. There shouldn't be any holes in the walls, scuffs in the carpet, or indication of pests and bugs.

Create some Curb Appeal
First impressions make a big difference, so you need to have the right kind of curb appeal before you list your home. Make sure the exterior paint is in good shape and pay attention to the lawn and outdoor spaces. The grass must be cut, the weeds must be pulled, and bushes and trees must be trimmed.
Turn on the exterior lighting and make sure it works. Remove any trash bins or other debris. If necessary, consider power washing your home. With good curb appeal, prospective tenants will want to go inside and have a look around. Without curb appeal, tenants might not bother.

Pricing and Marketing Your Home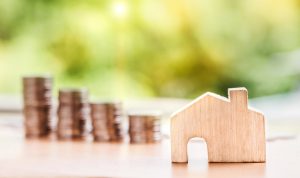 Once all of these things are complete, you can find the perfect price and begin marketing your listing. Proper pricing is critical; if you price it too low, you're losing money. If you price it too high, you're also losing money in vacancy costs. Conduct a market analysis or ask your Stockbridge property manager for help. We work with rental values every day, and we know the nuance of every Stockbridge neighborhood.
These are just a few of the things you need to do before you begin renting out your home. If you have any questions or need any help, we hope you'll contact us at Fickling & Company.