When you're renting out a Stockbridge investment property, you have to be prepared for maintenance costs. Smart investors will budget for this expense before they even make an acquisition. Repairs are always going to be required on rental homes, even if they're new and in excellent condition.
Both owners and tenants need to know who is responsible for property maintenance and how it should be handled.
It's important to discuss your expectations with tenants. You'll want them to know what their responsibilities are, and how you'll respond to the routine and emergency repair issues that are your responsibility.
Landlord and Owner Repair Responsibilities
As a landlord, it's your responsibility to prepare the property for your tenants and to make sure it's safe and habitable. Everything inside the home must work the way tenants will expect. You're the property owner, which means you're responsible for heating and cooling and plumbing and electricity. Tenants deserve to move into a home that doesn't already need a lot of work.
Routine repairs will also be your responsibility as the owner. When tenants submit repair requests for a broken dishwasher or a leaky faucet, you'll have to respond and pay for the repairs.
This doesn't mean that you can't charge some of those repairs to the tenant, especially if the problem is caused by your renter. For example, if the toilet backs up because the tenant's child flushed some toys, you can expect your tenants to pay for that repair.
Communicating with Your Stockbridge Tenants
The tenants are basically responsible for keeping the home clean and in good condition. Everyone has different standards of cleanliness, but it's reasonable to expect that that your residents will not make messes that cause deterioration to the property or attract pests and insects.
Some landlords want their tenants to take care of lawn care and landscaping. Your lease may require that tenants mow the lawn, weed the flower beds, and trim back any trees or bushes that threaten the property. Other landlords prefer to have professionals take care of these things, and then the cost of those services is included in the rental amount.
You should absolutely expect tenants to change air filters, replace smoke detector batteries, and change out light bulbs. But, your tenants have to know this. Make sure everything is clearly stated in the lease agreement, and discuss these responsibilities before your tenants move in.
It's also important that your tenants understand their responsibilities when it comes to reporting maintenance. You want to know when there's a problem. This is important, because if they wait too long, those repair issues get more complicated and more expensive.
Provide tenants with information and education. Before they move in, show them either in-person or through a video how to turn off the gas and the water in case there's an emergency maintenance issue and the problem needs to be slowed right away. Show them where the circuit breakers are on the control panel as well.
Prioritize Preventative Maintenance and Repairs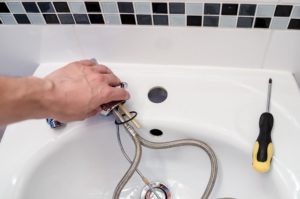 It helps to be proactive. When one faucet has a leak, it's a good time to check all the faucets and pipes in the property. Part of your responsibility as an owner is to have major systems inspected and serviced so that larger problems don't occur. Have the heating and cooling system checked once a year, for example.
Preventative maintenance can save you a lot of money and preserve the condition of your property. If you're working with a professional Stockbridge property management company, you should expect inspections between tenancies which will help you maintain and repair your investment property.
We can help you decide and document which repairs you should pay for and which your tenants should be accountable for paying. If you'd like more information, please contact us at Fickling & Company Property Management.